Glory to Jesus Christ!   Glory Forever!
Slava Isusu Christu!   Slava na v'iki!
"How hard it is for those who have riches to enter the kingdom of God!  For it is easier for a camel to go through the eye of a needle than for a rich man to enter the kingdom of God."  And those who heard it said, "Who then can be saved?" But He said, "The things which are impossible with men are possible with God."  (Luke 18:24b-27)
If you are looking for a spiritual home, please know you are always welcome to be a part of our Parish Family.  – Father Frank Hanincik, Pastor
---
We want to hear from you!
Parish Survey –  
There's still time to fill out this short survey and  email it back, or print out a copy and give it to the one of the ushers, the cantor, or Fr. Frank. Please return it by January 8th, the Sunday after Theophany, so results can be compiled and we can better serve our parish and parishioners.
January 15th  Thirty-fifth Sunday after Pentecost  
Divine Liturgy  10:00 AM  (For the People)
Rosary 9:40 AM
Propers:  Sunday_T2_DL.
Hymnal   All the faithful                  18
Propers  tone 2                             130
Holy God                                      28B
Cherubic Hymn                              42
Creed                                             51
We praise You, we bless You         61
Our Father                                     71
Readings:  Colossians 3:12-16 and Luke 18:18-27
Epistle readings are from the Revised Standard Version – Catholic Edition, Gospel readings are from the New King James Version.                      
Recordings of the musical settings used in our parishes can be found HERE 
---
Winter Weather – Please check back here or on our Facebook page for any changes or cancellations.
---
"The Holy Spirit shall come upon you, and the power of the Most High shall  overshadow you."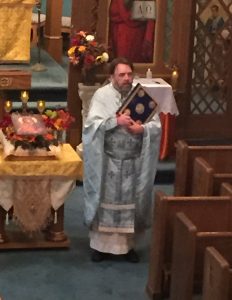 Having gifts that differ according to the grace given to us, let us use them. (Romans 12:6)
Have you thought about how you can volunteer to serve your parish?
Readers: We are looking for anyone interested in becoming a Reader of the Epistles.  Men, women or children of any age; no experience needed. 
Chanters:  Anyone interested in lending their voice in worship to assist the cantor.  This does not have to be a formal choir and reading music is not a necessity. 
Readers Course Video 1,   Readers Course Video 2
Cleaning Brigade – Volunteers for basic vacuuming and cleaning bathrooms of the church and center.
See  Fr. Frank or our cantor for more information.
---
 News and Happenings –
Coffee and Cake Fellowship after Liturgy on January 22nd.
---
Your 2017 envelopes  and wall calendars are available in the church basement for you to pick up. 
---
Thanks to the Kushner and Hoffman families for their donation of a new Altar Gospel Book for use during the Divine Liturgy and other services. It is donated in memory of Rose Hoffman.   We also have a new cadillo (censer) for use in the Divine Liturgy for burning incense. It was purchased by an offering from Lois Brink and family. They offer it in memory of Lois's husband Harold R. Brink Jr. We thank them for their generosity in memorializing this liturgical item.  May the memory of the servants of God, Rose and Harold, be eternal!
---
Bible Study – Times are Thursday 10:00 AM or Friday 7:00 PM. Online lessons are also available. Note: Cancelled the week of January 26th due to the March for Life in Washington. 
---
Rosary Society – We are always looking for volunteers to lead the praying the Rosary before the Liturgy on Sundays. The foundation of every good work is prayer. Jesus said, "Without me you can do nothing." Jesus acts in our lives and inspires us to do good largely through an active life of prayer. Just come to church 15-20 minutes before the Liturgy to pray the Rosary out loud for the intention that God would bless our parish, bring about a renewal at Saint Michael's, and help us meet the challenges ahead according to His will. Rosary booklets are available for everyone.
---
Charity Fund  – We are going to be setting up a fund to help those in need. 
For I was hungry and you gave Me food; I was thirsty and you gave Me drink; I was a stranger and you took Me in;  I was naked and you clothed Me; I was sick and you visited Me; I was in prison and you came to Me.   (Matthew 25: 36-37)
---
---
                          Video of the Divine Liturgy in Church Slavonic
---
Uniontown Video Divine Liturgy in Church Slavonic
---
Gift Cards Fundraiser – Retailers where you shop donate money to our church!  We have begun a new program with a great opportunity to  help our parish simply by shopping with Gift Cards purchased through our church.  ANYBODY can join our scrip program simply by going to the website  www.shopwithscrip.com, click enroll, and  entering  our enrollment code 4E85BLFF48759.   If you link up to prestopay, the money will come directly out of your bank account instead of  having to bring a check or cash to church.  See Janice Kavounas, Sandra Brink or Jennie Komnath for details.
---
Holy Bible 
These beautiful new Bibles, the Revised Standard Version – 2nd Catholic Edition,  provided by our shepherd Bishop Kurt are now in the pews for all to use.
"I think you will be thrilled when you see them in our churches. And I will be thrilled if you pick them up and read them!" – Bishop Kurt
---
 Rosary booklets 

Pray the Rosary  booklets are now available for everyone in the parish.  This expanded version contains the Luminous Mysteries and is  ideal for Rosary Novenas, family Rosary, and private recitation. 
---
The Divine Liturgy in Church Slavonic  
A PDF 40-page booklet containing text and music (multiple melodies, in some cases) for the Divine Liturgy in Church Slavonic, with English rubrics, following the format of The Divine Liturgies of our holy fathers John Chrysostom and Basil the Great (2007).
---
Traditional Spiritual Songs and Hymns of the Divine Liturgy In English and Slavonic
---
PLEASE FEEL FREE TO CONTACT US:
Comments or questions are welcome.
---
St. Michael the Archangel,
defend us in battle.
Be our defense against the wickedness and snares of the Devil.
May God rebuke him, we humbly pray,
and do thou,
O Prince of the heavenly hosts,
by the power of God,
thrust into hell Satan,
and all the evil spirits,
who prowl about the world
seeking the ruin of souls.  Amen.
---
The Lord is near, do not be anxious about anything. Instead, pray about everything. (Philippians: 4:5-6)