Glory to Jesus Christ! Glory Forever!
Slava Isusu Christu! Slava na v'iki!
"For Jesus taught His disciples and said to them, "The Son of Man is being betrayed into the hands of men, and they will kill Him. And after He is killed, He will rise the third day." (Mark 9: 31)
If you are looking for a spiritual home, please know you are always welcome to be a part of our Parish Family. – Father Frank Hanincik, Pastor
Winter Weather – Please check back here or on our Facebook page for any changes or cancellations.
---
Year 7525 of the Byzantine Era
March 26th – Fourth Sunday of the Great Fast – Leave-taking of the
Annunciation; Synaxis of the Archangel Gabriel

Rosary – 9:30 AM Sorrowful Mysteries
Divine Liturgy – 10:00 AM (+Marilyn Supp by Franklin and Barbara Kushner)
Section of Liturgy Pew Book or hymnal page
When the Angel Came hymnal 25
Litany of Peace 11
Typical Psalms 16
Beattitudes 23
Troparia 141, 329, 265
Kontakion 329
Holy God 28B
Prokeimenon / Alleluia 142, 330
Cherubic Hymn 45D
Creed 51
Saint Basil Anaphora 96
Otče Naš hymnal 35
Communion Hymn 331
Propers: 03-26-17_GF4_Sunday_DL
Readings: Hebrews 6:13-20 • Mark 9:17-31
Recording of the Divine Liturgy 3/19/17
Byzantine Catholic Hymnal draft of traditional spiritual songs and hymns of the Divine Liturgy In English and Slavonic is available HERE.
Epistle readings are from the Revised Standard Version – Second Catholic Edition, Gospel readings are from the New King James Version.
Recordings of the musical settings used in our parishes can be found HERE
Saturday, March 25th Annunciation of the Theotokos
Divine Liturgy of Saint John Chrysostom 10:00 AM
Section of Liturgy

Pew Book

unless noted

page

When the Angel Came

hymnal

25

Litany of Peace

11

Weekday Antiphons

15

Propers

328

Svjatyj Boze hymnal

30B

Cherubic Hymn

42

Nicene Creed

53

Irmos / Magnification

330

Our Father

74

Communion Hymn

330
Propers sheet: 03-25_Annunciation_DL
Readings: Hebrews 2:11-18 • Luke 1:24-38
---
Friday March 31st, Divine Liturgy of the Presanctified Gifts

Allentown – 7:00PM
Friday Psalms 12
Psalm 140 105
Lamp-Lighting Psalm 19
Stichera 105
O Joyful Light 22
Prokeimena 112
Great Entrance 36B
Readings: Genesis 22:1-18 • Proverbs 17:17-18:5
This vespers service is unique to the Byzantine Rite. It is celebrated during the Great Fast, and provides the faithful with the opportunity to receive Holy Communion on those days when then the Eucharistic Sacrifice is not celebrated. The word "presanctified" indicates that the "gifts" (the Body and Blood of Christ) which are distributed at the service are those consecrated at a previous Eucharist.
---
Travelling? See Mass Times for listings of churches and times for any area.
---
"The Holy Spirit shall come upon you, and the power of the Most High shall overshadow you."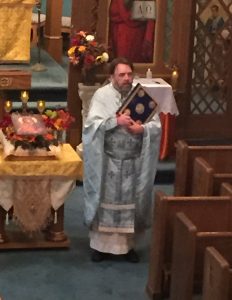 Having gifts that differ according to the grace given to us, let us use them. (Romans 12:6)
NEWS & ACTIVITIES section is now located on its own Tab.
---
PLEASE FEEL FREE TO CONTACT US:
Comments or questions are welcome.
---
St. Michael the Archangel,
defend us in battle.
Be our defense against the wickedness and snares of the Devil.
May God rebuke him, we humbly pray,
and do thou,
O Prince of the heavenly hosts,
by the power of God,
thrust into hell Satan,
and all the evil spirits,
who prowl about the world
seeking the ruin of souls. Amen.
---
The Lord is near, do not be anxious about anything. Instead, pray about everything. (Philippians: 4:5-6)