Glory to Jesus Christ!
Glory Forever!
"Blessed are those who hear the word of God and keep it!" ( Luke 11:28 )
If you are looking for a spiritual home, please know you are always welcome to be a part of our Parish Family. – Father Frank Hanincik, Pastor
Phone: 610-432-6773
First Time Visitors please click HERE.
---
~~~~Year 7525 of the Byzantine Era~~~~
August 20th Eleventh Sunday after Pentecost (Post-festive day of the Dormition)
Rosary 9:10 AM (Glorious Mysteries)
Divine Liturgy 9:30 AM (+ Melissa Kavounas by the
Kavounas Family )
Baptism 10:30 AM
Section of Liturgy Pew Book or hymnal page
Hymn: O Mary Mother of our God 20
Litany of Peace 11
Troparion Tone 2, Post-feast 130, 352
Kontakion Post-feast 352
Svjatyj Bože 30B
Prokeimenon / Alleluia 132
Cherubic Hymn 42
Nicene Creed 51
Magnification/Irmos 353
The Lord's Prayer 71
Communion Hymn 78A 229
Readings: 1 Corinthians 9:2-12 • Matthew 18:23-35
Epistle readings are from the Holy Bible Revised Standard Version – Second Catholic Edition. Gospel readings are from the New King James Version.
Recordings of the musical settings used in our parishes can be found HERE
A draft of the Byzantine Catholic Hymnal of traditional spiritual songs and hymns of the Divine Liturgy In English and Slavonic is available HERE.
We are asking for volunteers to lead the Rosary on Sunday mornings.
---
Recording of the Divine Liturgy 3/19/17
---
Travelling? See Mass Times for listings of churches and times for any area.
---
Please take time to fill out this survey for Metropolitan William in preparation of the 2018 Synod.
QUESTIONNAIRE FOR THE 2018 SYNOD OF BISHOPS ON YOUNG PEOPLE, THE FAITH AND VOCATIONAL DISCERNMENT
---
"The Holy Spirit shall come upon you, and the power of the Most High shall overshadow you."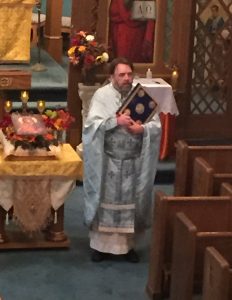 Having gifts that differ according to the grace given to us, let us use them. (Romans 12:6)
Altar Servers – Fr. Frank is looking for any male who would be willing to help as an altar server with preparing the censor and opening and closing the side doors of the icon screen during the Liturgy.
---
NEWS & ACTIVITIES section is now located on its own Tab.
---
PLEASE FEEL FREE TO CONTACT US:
Comments or questions are welcome.
---
St. Michael the Archangel,
defend us in battle.
Be our defense against the wickedness and snares of the Devil.
May God rebuke him, we humbly pray,
and do thou,
O Prince of the heavenly hosts,
by the power of God,
thrust into hell Satan,
and all the evil spirits,
who prowl about the world
seeking the ruin of souls. Amen.
---
The Lord is near, do not be anxious about anything. Instead, pray about everything. (Philippians: 4:5-6)