28 So Jesus said to them, "Assuredly I say to you, that in the regeneration, when the Son of Man sits on the throne of His glory, you who have followed Me will also sit on twelve thrones, judging the twelve tribes of Israel. 29 And everyone who has left houses or brothers or sisters or father or mother or wife or children or lands, for My name's sake, shall receive a hundredfold, and inherit eternal life. 30 But many who are first will be last, and the last first. (Matthew 19:28-30)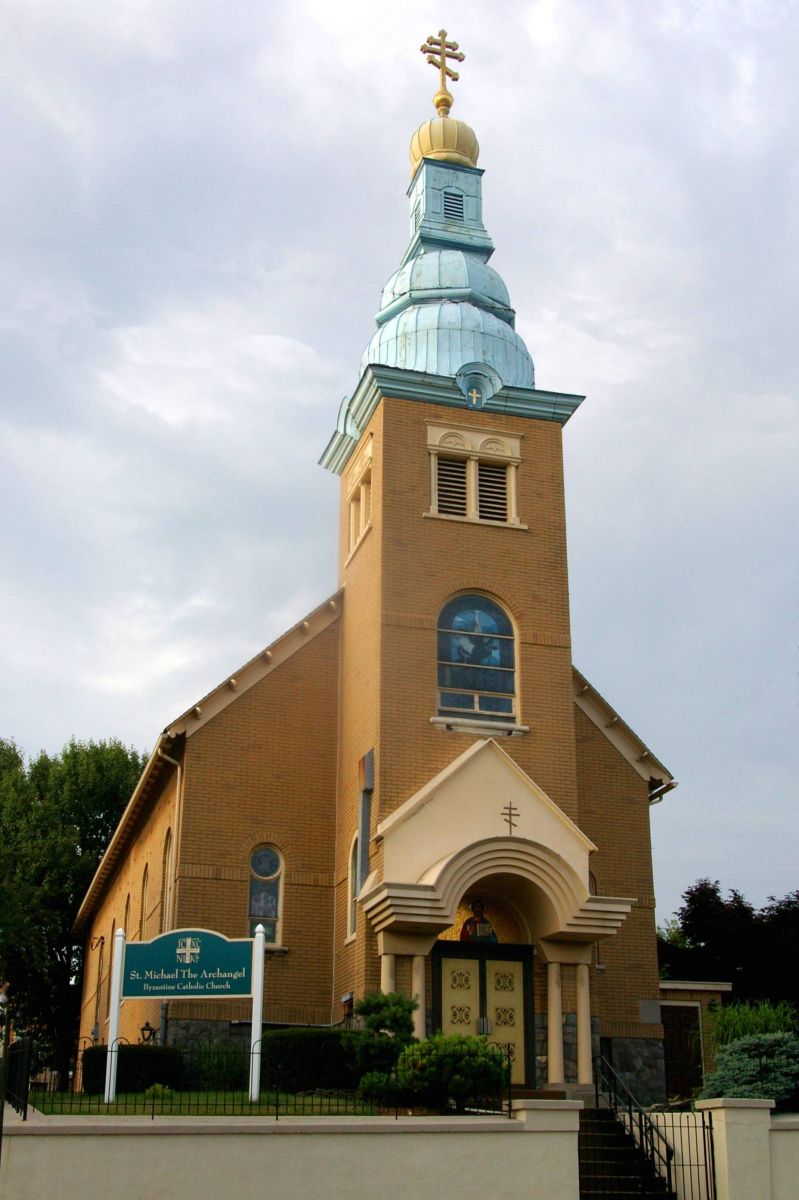 If you are looking for a spiritual home, please know you are always welcome to be a part of our Parish Family. – Father Frank
Phone: 610-432-6773
First Time Visitors please click HERE.
Google Map to Saint Michael Church link
---
~~~~Year 7526 of the Byzantine Era~~~~
[P] Ss. Peter & Paul Church, Palmerton
[A] St. Michael the Archangel Church, Allentown
SUMMER SCHEDULE Allentown Divine Liturgy May 27 – Sept 2 9:30 AM
Sunday of All Saints
May 26th [P] Divine Liturgy 4:00 PM (+David Moyer with Panachida)

May 27th [A] Divine Liturgy 9:30 AM (For the People)
[A] 9:00 AM Rosary

Section of Liturgy Pew Book /Hymnal Page
Hymn: sheet
Litany of Peace 11
Propers 211
Holy God 27
Cherubic Hymn 42
Nicene Creed 51
We Praise You, We Bless You 61
Our Father 74
Communion Hymns 78, 213
Panachida 432
Readings: Hebrews 11:32-12:2a • Matthew 10:32-33, 37-38 & 19:27-30
RECORDINGS of the settings used can be found HERE.
Click name of day for link to Propers and other changeable parts of the Liturgy.
Links to changeable parts and archives can be found HERE.
---
Notes from the Saint Michael Parish Meeting concerning Construction on 5/13/18 to discuss options for the structural renovations needed for the church building.
Saint Michael Parish Meeting Fundraising 5-20-18
The bulletin from 5/20/18 has a sheet with more pricing breakdowns and a tear-off to vote. Please vote for option A, B or none-of-the-above and put in the box at the back of the church this Sunday May 27th. Construction needs to begin in early June.
Gift Cards Fundraiser – Retailers where you shop donate money to our church! Physical Gift cards will be available. Simply shop with Gift Cards purchased through our church and the retailers donate money. Anybody can join our scrip program by going to the website www.shopwithscrip.com, click enroll, and entering our enrollment code 4E85BLFF48759. See Janice Kavounas, Sandra Brink or Jennie Komnath for details.
---
Our next Divine Liturgy in the Center will be Sunday July 15th .
---
Travelling? See Mass Times for listings of churches and times for any area.
---
"The Holy Spirit shall come upon you, and the power of the Most High shall overshadow you."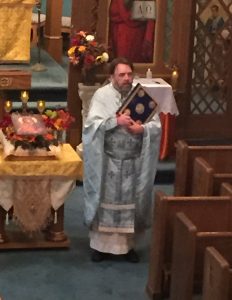 Having gifts that differ according to the grace given to us, let us use them. (Romans 12:6)
---
NEWS & ACTIVITIES section is now located on its own Tab.
---
St. Michael the Archangel,
defend us in battle.
Be our defense against the wickedness and snares of the Devil.
May God rebuke him, we humbly pray,
and do thou,
O Prince of the heavenly hosts,
by the power of God,
thrust into hell Satan,
and all the evil spirits,
who prowl about the world
seeking the ruin of souls. Amen.
---
The Lord is near, do not be anxious about anything. Instead, pray about everything. (Philippians: 4:5-6)
PLEASE FEEL FREE TO CONTACT US:
Comments or questions are welcome.
---