12 The next day a great multitude that had come to the feast, when they heard that Jesus was coming to Jerusalem, 13 took branches of palm trees and went out to meet Him, and cried out:
"Hosanna!
'Blessed is He who comes in the name of the Lord!'
The King of Israel!"
14 Then Jesus, when He had found a young donkey, sat on it; as it is written:
15 "Fear not, daughter of Zion;
Behold, your King is coming,
Sitting on a donkey's colt."
(John 12: 12-15)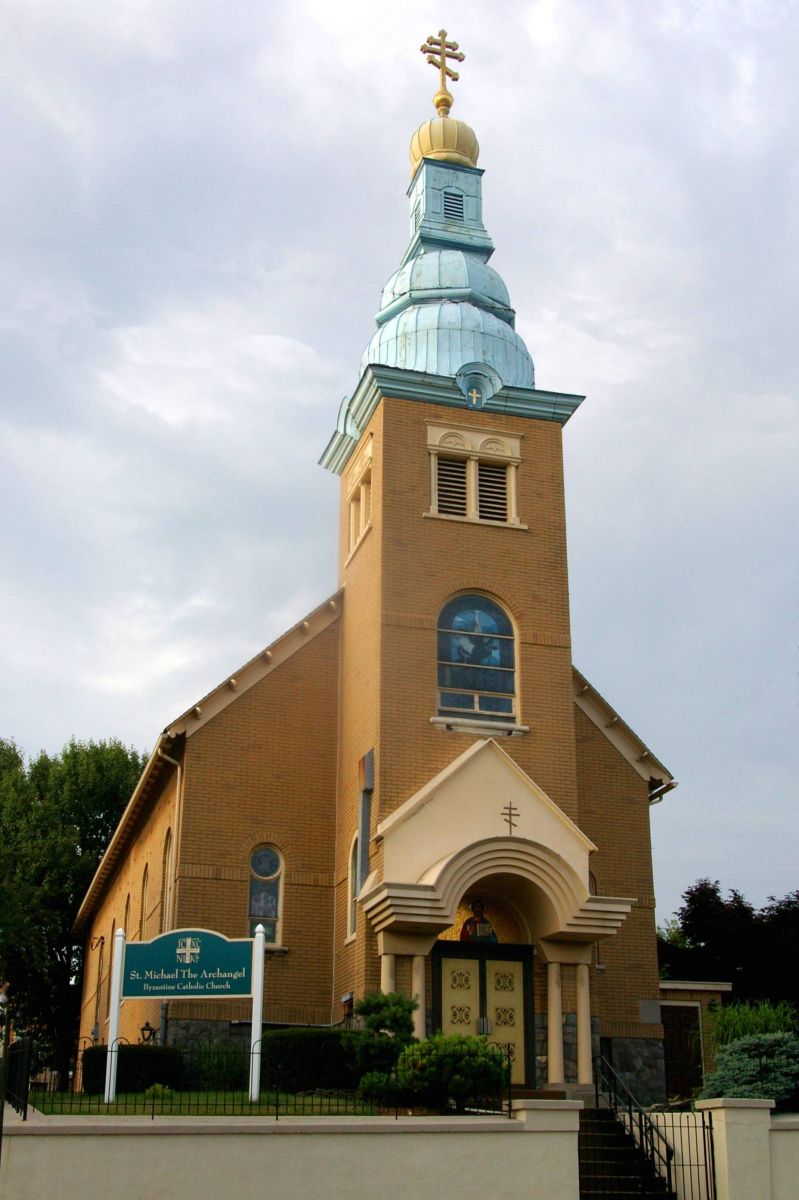 If you are looking for a spiritual home, please know you are always welcome to be a part of our Parish Family. – Father Frank
Phone: 610-432-6773
First Time Visitors please click HERE.
---
~~~~Year 7526 of the Byzantine Era~~~~
---
March 25th Palm Sunday, The Annunciation of the Mother of God
Palmerton Divine Liturgy 4:00 PM (Saturday)
Easter Egg Hunt 9:00 AM
Rosary 9:30 AM (Sorrowful Mysteries)
Allentown Divine Liturgy 10:00 AM (+Melissa Marie Kavounas by Mr. & Mrs. Franklin Kushner)
Section of Liturgy Pew Book or hymnal page

Blessing of Palms sheet
Hymnal When the Angel came 25
Litany of Peace 11
Antiphons 235
Entrance Hymn 328
Troparia 329,236
Kontakia 238, 329
Holy God 27
Pokeimenia / Alleluia 239, 330
Cherubic Hymn 42
Nicene Creed 51
Magnification / Irmos 239
Our Father 74
Communion Hymns 78, 232
Readings: Philippians 4:4-9, Hebrews 2:11-18 • John 12:1-18, Luke 1:24-38
Recordings of the musical settings used in our parishes can be found HERE
Epistle readings are from the New American Bible, 1970 edition. Gospel readings are from the New King James Version.
A draft of the Byzantine Catholic Hymnal of traditional spiritual songs and hymns of the Divine Liturgy In English and Slavonic is available HERE.
[Note: If there is a discrepancy between the Typicon, the Metropolitan Cantor Institute or the Pew Book, the Pew Book usually will be followed.]
---
Everyone is invited to a FREE webinar on Palm Sunday, 1pm EST. It's a reflection on Holy Week, and I'd love you to spend an hour with me contemplating the events of our salvation! If you can't make it, the webinar will be available to view later. Register here: http://ow.ly/Vo7l30iZCVH
---
Holy Week and Pascha Schedule
Great and Holy Wednesday 3/28 [A] 7:00 Service of Anointing of the Sick with Opportunity for Confession
Great and Holy Thursday 3/29 [A] 7:00 PM Vespers with Divine Liturgy of Saint Basil in commemoration of the Institution of the Eucharist
Great and Holy Friday 3/30 [P] 12:00 Noon Vespers with Procession with Entombment of the Shroud
[A] 3:00 PM Vespers with Procession with Entombment of the Shroud
Great and Holy Saturday 3/31 [A] 1:00 PM Blessing of Baskets
[P] 4:00 PM Resurrection Matins with Divine Liturgy
Pascha – The Great Day 4/1 [A] 9:30 AM Resurrection Matins and Divine Liturgy
Bright Monday 4/2 TBA
Note: Baskets will be blessed after each Easter Liturgy in addition to 1 o'clock Saturday.
[P] Ss. Peter & Paul Church Palmerton
[A] St. Michael Church Allentown
---
FASTING REGULATIONS
†All who receive Communion in the Eparchy of Passaic are required to abstain from meat on Wednesdays and Fridays of the Great Fast.
†All adults who receive Communion in the Eparchy of Passaic are required to abstain from meat, eggs, and milk products on the first day of Lent, Monday, February 12 and on Great and Holy Friday, March 30.
†These are the minimum requirements; however, the faithful are encouraged to do more.
Dispensation
†Pastors and Administrators may, for a just cause, grant to the individual faithful and to individual families, dispensations or commutations of the fasting rules into other pious practices.
---
Travelling? See Mass Times for listings of churches and times for any area.
---
"The Holy Spirit shall come upon you, and the power of the Most High shall overshadow you."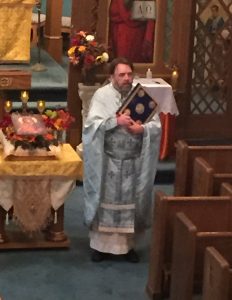 Having gifts that differ according to the grace given to us, let us use them. (Romans 12:6)
---
NEWS & ACTIVITIES section is now located on its own Tab.
PLEASE FEEL FREE TO CONTACT US:
Comments or questions are welcome.
---
St. Michael the Archangel,
defend us in battle.
Be our defense against the wickedness and snares of the Devil.
May God rebuke him, we humbly pray,
and do thou,
O Prince of the heavenly hosts,
by the power of God,
thrust into hell Satan,
and all the evil spirits,
who prowl about the world
seeking the ruin of souls. Amen.
---
The Lord is near, do not be anxious about anything. Instead, pray about everything. (Philippians: 4:5-6)