"It is the hour now for you to awake from sleep. For our salvation is nearer now than when we first believed. " (Romans 13:11)
---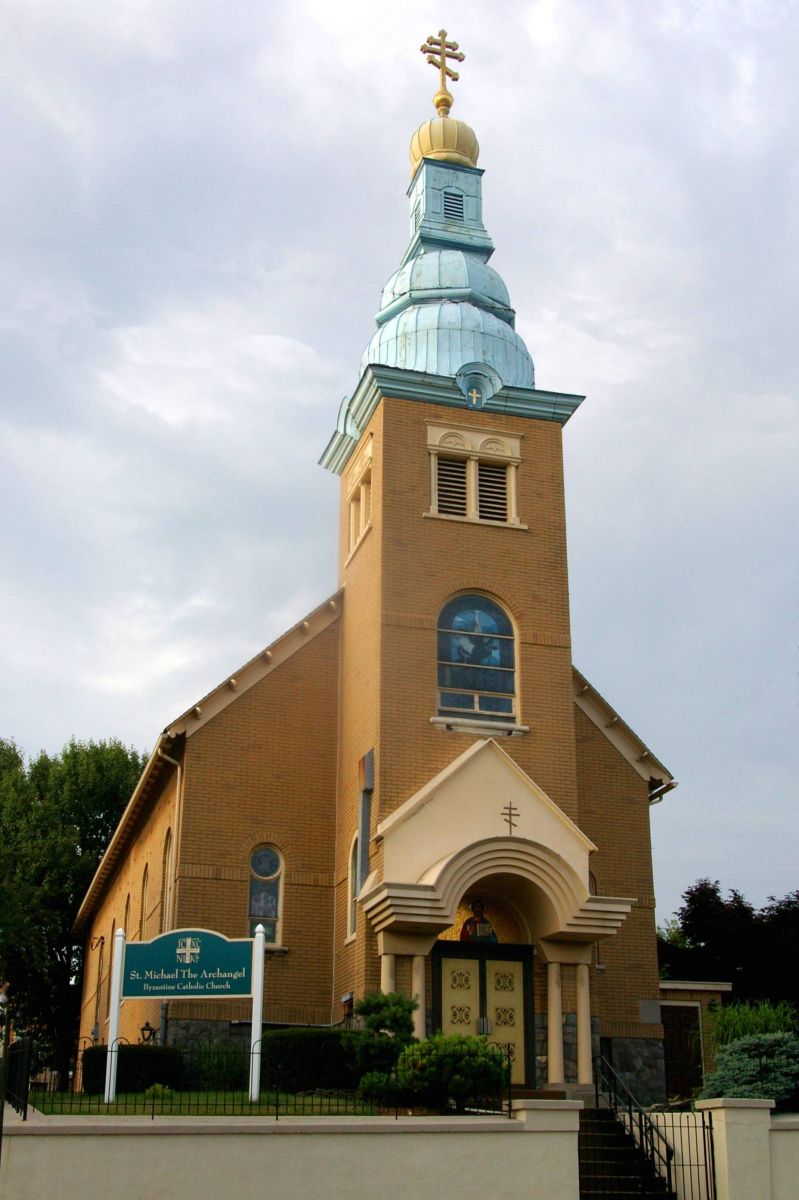 If you are looking for a spiritual home, please know you are always welcome to be a part of our Parish Family. – Father Frank
Phone: 610-432-6773
First Time Visitors please click HERE.
Google Map to Saint Michael Church link
---
~~~~Year 7526 of the Byzantine Era~~~~
[P] Ss. Peter & Paul Church, Palmerton
[A] St. Michael the Archangel Church, Allentown
SUMMER SCHEDULE Allentown Divine Liturgy May 27 – Sept 2 9:30 AM
The Office of Christian Burial with Divine Liturgy
June 23rd [A] 10:00 AM + Stephen Wursta Sr.
---
Fifth Sunday after Pentecost, Birth of Saint John the Baptist

June 23rd [P] 4:00 PM Divine Liturgy (For the People)
June 24th [A] 9:00 AM Rosary
[A] 9:30 AM Divine Liturgy (+Beatrice Fegley by Loretta Brosky)
Hymn When the angel came hymnal 25
Troparia Tone 4, Feast 141, 334
Kontakia 335,141
Svjatyj Bože hymnal 30B
Prokeimenon/Alleluia 142 ,335
Cherubic Hymn 43B
Nicene Creed 51
Holy Holy Holy 56B
Magnification/Irmos 335
Our Father 71
Communion Hymn 78B
Readings: Romans 10:1-10, Romans 13:11b-14:4 • Matthew 8:28-9:1, Luke 1:1-25, 57-68, 76, 80
---
The Holy Pre-eminent Apostles Peter & Paul
June 29th Divine Liturgy date and time to be determined based on Fr. Yuri's availability.
Hymn Beautiful Holy Queen hymnal 27
Antiphons 15
Propers 334
Holy God 28B
Cherubic Hymn 42
Creed 53
Holy Holy Holy 56B
We Praise You 61
Magnification/Irmos 336
Our Father 71
Readings: 2 Corinthians 11:21-12:9 • Matthew 16:13-19
---
Sixth Sunday after Pentecost


June 30th [P] 4:00 PM Divine Liturgy (For the People)
July 1st [A] 9:30 AM Divine Liturgy
[A] 10:45 AM Cake & Coffee Fellowship welcoming Fr. Yuri
Hymn O Mary Mother of Our God 20
Propers Tone 5 146
Holy God 28C
Cherubic Hymn 43B
Nicene Creed 53
Holy Holy Holy 56B
Our Father 74
Communion Hymn 78B
Readings: Romans 12:6-14 • Matthew 9:1-8
RECORDINGS of the settings used can be found HERE.
Click name of day for link to Propers and other changeable parts of the Liturgy.
Links to changeable parts and archives can be found HERE.
---
Parish Building Renovation Project
In the coming weeks we will be developing a dedicated fundraising website. If you have any photos from past events at our church events and would be willing to share them, please see our cantor.
Please use your Church Renovation Fund envelopes for donations specifically intended toward the Renovation Project, or simply put the offering in an envelope marked Renovation Fund.
Gift Cards Fundraiser – Retailers where you shop donate money to our church! Physical Gift cards will be available. Simply shop with Gift Cards purchased through our church and the retailers donate money. Anybody can join our scrip program by going to the website www.shopwithscrip.com, click enroll, and entering our enrollment code 4E85BLFF48759. See Janice Kavounas for details.
---
Our next Divine Liturgy in the Center will be Sunday July 15th .
---
Travelling? See Mass Times for listings of churches and times for any area.
---
"The Holy Spirit shall come upon you, and the power of the Most High shall overshadow you."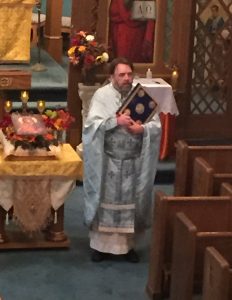 Having gifts that differ according to the grace given to us, let us use them. (Romans 12:6)
---
NEWS & ACTIVITIES section is now located on its own Tab.
---
St. Michael the Archangel,
defend us in battle.
Be our defense against the wickedness and snares of the Devil.
May God rebuke him, we humbly pray,
and do thou,
O Prince of the heavenly hosts,
by the power of God,
thrust into hell Satan,
and all the evil spirits,
who prowl about the world
seeking the ruin of souls. Amen.
---
The Lord is near, do not be anxious about anything. Instead, pray about everything. (Philippians: 4:5-6)
PLEASE FEEL FREE TO CONTACT US:
Comments or questions are welcome.
---