Glory to Jesus Christ!
Glory Forever!
"For everyone who exalts himself will be humbled, and he who humbles himself will be exalted." (Luke 18:14b)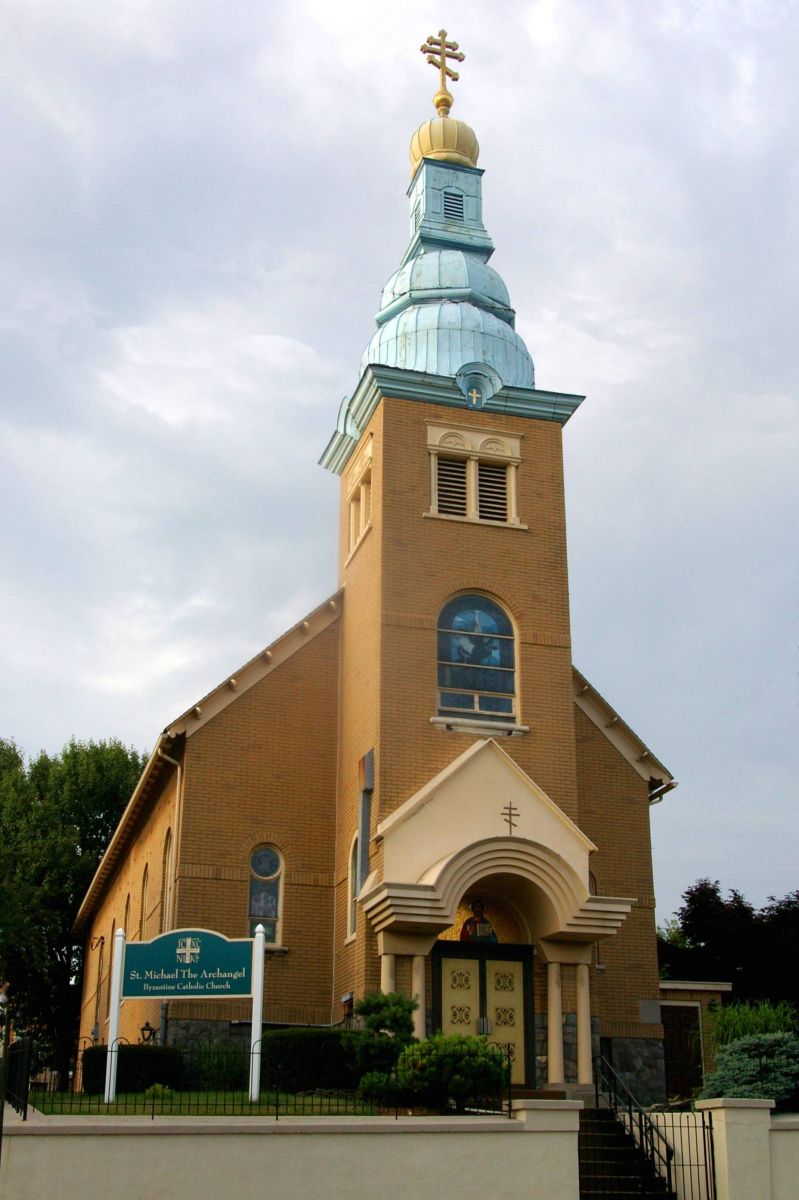 If you are looking for a spiritual home, please know you are always welcome to be a part of our Parish Family. – Father Frank
Phone: 610-432-6773
First Time Visitors please click HERE.
---
~~~~Year 7526 of the Byzantine Era~~~~
Schedule of Services
Saturday Jan. 20th Palmerton Divine Liturgy 4:00 PM
---
January 21st Sunday of the Publican and the Pharisee

Rosary 9:30 AM (Glorious Mysteries)
Allentown Divine Liturgy 10:00 AM (+Ralph Romano by Rosalie
and Hoyt Walter)
Section of Liturgy Pew Book or hymnal page
Hymnal Come Now to Us 5
Litany of Peace 11
Propers Tone 8 , Feast 161, 215
Holy God 27
Cherubic Hymn 42
Nicene Creed 53
Our Father 71
Communion Hymn 78
Readings: 2 Timothy 3:10-15 • Luke 18:10-14
---
Epistle readings are from the Holy Bible Revised Standard Version – Second Catholic Edition. Gospel readings are from the New King James Version.
[Note: If there is a discrepancy between the Typicon, the Metropolitan Cantor Institute or the Pew Book, the Pew Book usually will be followed.]
Recordings of the musical settings used in our parishes can be found HERE
A draft of the Byzantine Catholic Hymnal of traditional spiritual songs and hymns of the Divine Liturgy In English and Slavonic is available HERE.
---
Family or Individual Portraits A photo backdrop has been set up in the
Parish Center for anyone wishing to have complimentary family, group or individual pictures taken on Sundays before or after the Liturgy, or weekends or evenings by appointment. Pictures can be added to a private section of the website for an online Parish Directory. Files will be available free to have prints made. Please see our Cantor Will Komnath for more information.
---
We are asking for volunteers to lead the Rosary on Sunday mornings.
---
New Smartphone Apps:
Eastern Christian Publications has completed development of a smartphone app that is now available for FREE download in the Apple Store for all iOS devices, and will soon be available for Android, Kindle, Blackberry and Windows phones. The name of the app is "ECPubs" — just search for this in the Apple Store and install.
It provides several unique features for Eastern Christians:
Saint of the Day — Icons and Troparia with one touch

Java with Jesus — daily reflection from a book of the same title

The Hours — the same Hours provided by email, changed each day

Daily Vespers — the Propers, Reader Service and Clergy version with all changeable parts

Sunday

Bulletin — icon and text commentary for the week

Theosis Magazine — the ezine version of our monthly magazine

Book of the Month — a short description of a book from our catalog

Intro to Prayer — an explanation of the Byzantine Daily Office

Websites — links to all of our websites
The Byzantine Catholic Eparchy of Parma (Ohio) recently released a smartphone app for iOS and Android that includes:
daily epistle and Gospel readings according to the Byzantine lectionary used in our church

a short biography of the daily saint(s) on our calendar, together with their troparion and kontakion

news, video, and other resources
Quite a few folks have asked for such a resource, tried it out and highly recommend it. To get the app:
For Android: https://play.google.com/store/apps/details?id=com.bf.appd580cf&hl=en

For Apple: https://itunes.apple.com/us/app/eparchy-of-parma/id1247012513?mt=8
---
Saint Michael's is making new copies of the pew book available for anyone to have as their own for use at home or during services.
Having your own book to mark and put in Post-it flags, bookmarks or prayer cards could help in following along during the Liturgies. (Donations will be accepted but not required.)
---
Travelling? See Mass Times for listings of churches and times for any area.
---
We want to hear from you!
Parish Survey –
There's still time to fill out this short survey and email it back, or print out a copy and give it to the one of the ushers, the cantor, or Fr. Frank. Please return it as soon as you can so results can be compiled and we can better serve our parish and parishioners.
Please take time to fill out this survey for Metropolitan William in preparation of the 2018 Synod.
QUESTIONNAIRE FOR THE 2018 SYNOD OF BISHOPS ON YOUNG PEOPLE, THE FAITH AND VOCATIONAL DISCERNMENT
---
"The Holy Spirit shall come upon you, and the power of the Most High shall overshadow you."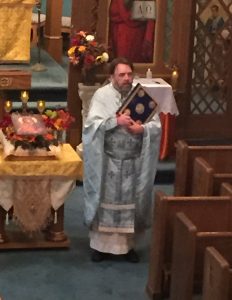 Having gifts that differ according to the grace given to us, let us use them. (Romans 12:6)
Altar Servers – Fr. Frank is looking for any male who would be willing to help as an altar server with preparing the censor and opening and closing the side doors of the icon screen during the Liturgy.
---
NEWS & ACTIVITIES section is now located on its own Tab.
---
Publications and Media:
Video of the Divine Liturgy in Church Slavonic 2/5/17
---
Uniontown Video Divine Liturgy in Church Slavonic
---
Historic Audio Recordings from the Metropolitan Cantor Institute on soundcloud.com
Recording of the Divine Liturgy St. Michaels's 3/19/17
---
Holy Bible
These beautiful new Bibles, the Revised Standard Version – 2nd Catholic Edition, provided by our shepherd Bishop Kurt are now in the pews for all to use.
"I think you will be thrilled when you see them in our churches. And I will be thrilled if you pick them up and read them!" – Bishop Kurt
---
Back to the Garden A Lenten Journey though Genesis
Spiritual reflections on the readings from Genesis during the Great Fast.
---

Pray the Rosary booklets are now available for everyone in the parish. This expanded version contains the Luminous Mysteries and is ideal for Rosary Novenas, family Rosary, and private recitation.
---
The Divine Liturgy in Church Slavonic
A PDF 40-page booklet containing text and music (multiple melodies, in some cases) for the Divine Liturgy in Church Slavonic, with English rubrics, following the format of The Divine Liturgies of our holy fathers John Chrysostom and Basil the Great(2007).
Another format of the Divine Liturgy of St. John Chrystostom in Slavonic published by Patronage Church.
---
Traditional Spiritual Songs and Hymns of the Divine Liturgy In English and Slavonic MCI 2007
---
PLEASE FEEL FREE TO CONTACT US:
Comments or questions are welcome.
---
St. Michael the Archangel,
defend us in battle.
Be our defense against the wickedness and snares of the Devil.
May God rebuke him, we humbly pray,
and do thou,
O Prince of the heavenly hosts,
by the power of God,
thrust into hell Satan,
and all the evil spirits,
who prowl about the world
seeking the ruin of souls. Amen.
---
The Lord is near, do not be anxious about anything. Instead, pray about everything. (Philippians: 4:5-6)