5 Have this mind among yourselves, which was in Christ Jesus, 6 who, though he was in the form of God, did not count equality with God a thing to be grasped, 7 but emptied himself, taking the form of a servant, being born in the likeness of men. 8 And being found in human form he humbled himself and became obedient unto death, even death on a cross. 9 Therefore God has highly exalted him and bestowed on him the name which is above every name, 10 that at the name of Jesus every knee should bow, in heaven and on earth and under the earth, 11 and every tongue confess that Jesus Christ is Lord, to the glory of God the Father. (Philippians 2:5-11)
---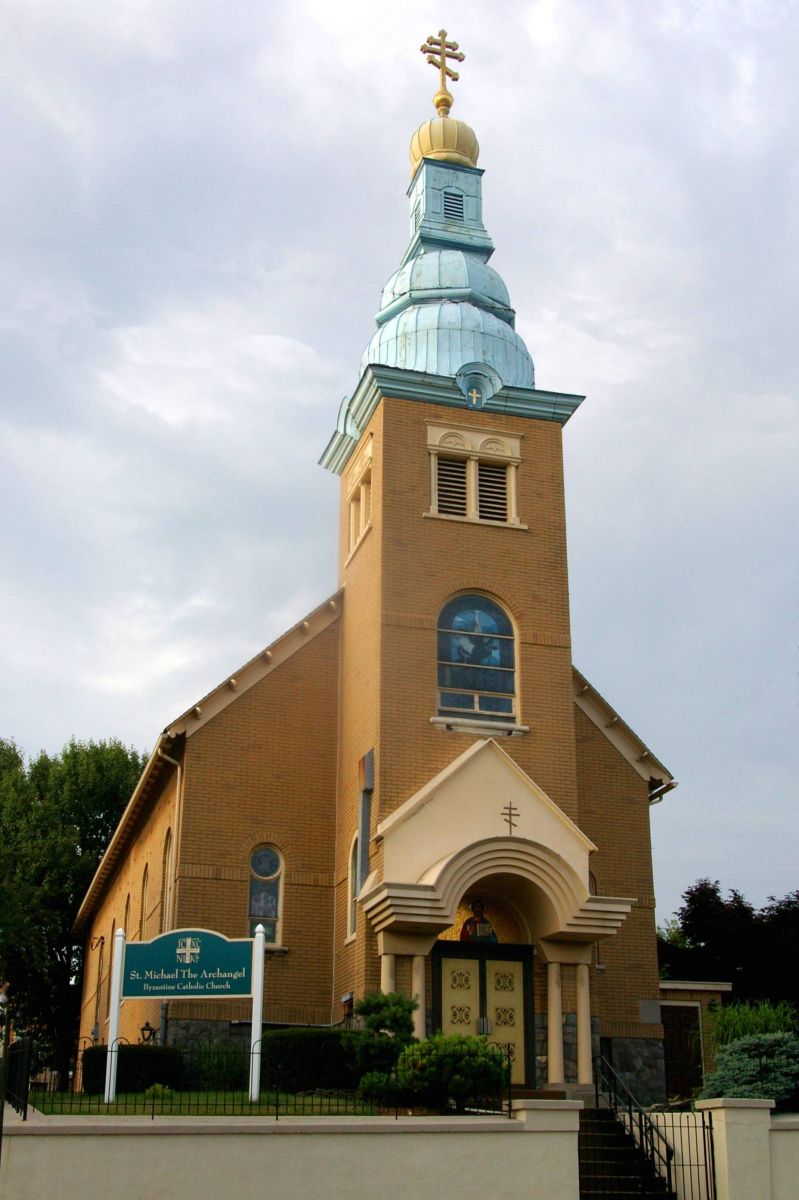 If you are looking for a spiritual home, please know you are always welcome to be a part of our Parish Family. – Father Frank
Phone: 610-432-6773
First Time Visitors please click HERE.
Google Map to Saint Michael Church link
---
~~~~Year 7526 of the Byzantine Era~~~~
[P] Ss. Peter & Paul Church, Palmerton
[A] St. Michael the Archangel Church, Allentown
SUMMER SCHEDULE Allentown Divine Liturgy May 27 – Sept 2 9:30 AM
---
Tradition relates that the Mother of God died in Jerusalem, after a visit with all of Christ's apostles. They carried her coffin to the Garden of Gethsemane where it was placed into a tomb. The apostle Thomas came late, and asked that the tomb might be opened so that he could reverence her body. When opened, the tomb was found empty except for the winding sheet. Flowers and herbs are blessed following the Liturgy.
O Christ our God, You transferred Your incorrupt Mother from life to death to the fullness of life. Though she was buried in a grave of corruption, beyond our understanding You lifted her on high and gathered Your apostles from everywhere to be at her side. By her prayers, ransom all of us who celebrate the feast of her Dormition from all deadly thoughts and deeds and free us from spiritual corruption. Save us from the death of despair, and keep us from disbelief or any memory of bad faith. Put to sleep all tyranny and treachery against governments following the pure way. Put to death the audacity of barbarous people and humble all who rise to scoff at Your teachings.
Make all of us worthy of eternal life, for You want all men to be saved, and to You belongs glory together with Your eternal Father, and Your all-holy, good and life-creating Spirit, now and ever, and forever. Amen. – Ambon Prayer of the Dormitiom
---
Thirteenth Sunday after Pentecost, post-festive day of the Dormition
Saturday August 18th Divine Liturgy 4:00 PM [P] (For the People)
Sunday August 19th Divine Liturgy 9:30 AM [A] Parish Center (TBA)
Finance Committee Meeting 10:30 AM
Section of Liturgy hymnal or pew book page
Troparia 141, 352
Kontakion 353
Svjatyj Bože 30B
Prokeimenia/Alleluia 142, 353
Cherubic Hymn 42
Nicene Creed 53
Magnification/ Irmos 353
Our Father 71
Readings: 1 Corinthians 16:13-24 • Matthew 21:33-42
---
Fourteenth Sunday after Pentecost

Saturday August 25th Divine Liturgy 4:00 PM [P]
Sunday August 26th Divine Liturgy 9:30 AM [A]
Section of Liturgy hymnal or pew book page
Hymn Beautiful Holy Queen 27
Propers Tone 5 146
Holy God 28C
Cherubic Hymn 42
Nicene Creed 53
We Praise You 61
Our Father 71
Readings: 2 Corinthians 1:21-2:4 • Matthew 22:1-14
RECORDINGS of the settings used can be found HERE.
Click name of day for link to Propers and other changeable parts of the Liturgy.
Links to changeable parts and archives can be found HERE.
---
Parish Building Renovation Project
Please consider increasing your monthly donation by $50.00 or more to go towards the renovation project.
In the coming months we will be developing a dedicated fundraising website. We wish to share our story and save our parish. If you have any photos from past events at our church events and would be willing to share them, please see our cantor.
Renovation Fund Total $27,487.00 est.
The Church Renovation Fund envelopes can be used for donations specifically intended toward the Renovation Project, or simply put the offering in an envelope marked Renovation Fund. Thank you for your generosity.
Gift Cards Fundraiser – Retailers where you shop donate money to our church! Physical Gift cards will be available. Simply shop with Gift Cards purchased through our church and the retailers donate money. Anybody can join our scrip program by going to the website www.shopwithscrip.com, click enroll, and entering our enrollment code 4E85BLFF48759. See Janice Kavounas for details.
---
Our next Divine Liturgy in the Center will be Sunday August 19th.
---
Travelling? See Mass Times for listings of churches and times for any area.
---
"The Holy Spirit shall come upon you, and the power of the Most High shall overshadow you."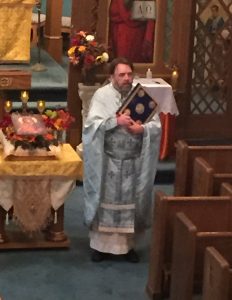 Having gifts that differ according to the grace given to us, let us use them. (Romans 12:6)
---
NEWS & ACTIVITIES section is now located on its own Tab.
---
St. Michael the Archangel,
defend us in battle.
Be our defense against the wickedness and snares of the Devil.
May God rebuke him, we humbly pray,
and do thou,
O Prince of the heavenly hosts,
by the power of God,
thrust into hell Satan,
and all the evil spirits,
who prowl about the world
seeking the ruin of souls. Amen.
---
The Lord is near, do not be anxious about anything. Instead, pray about everything. (Philippians: 4:5-6)
PLEASE FEEL FREE TO CONTACT US:
Comments or questions are welcome.