All services and activities have been temporarliy suspended effective 7/28/19 until further notice. Please visit Saints Peter and Paul Church in Bethlehem.
https://saintspeterpaulbethlehempa.org/
Having gifts that differ according to the grace given to us, let us use them. Romans 12:6(RSVCE)
---
Parish and Eparchial News:
SPECIAL ANNOUNCEMENT:
Due to the shortage of clergy we have no priest to substitute in August. Bishop Kurt has asked everyone to fullfill their Sunday obligation by attending Divine Liturgies at SS. Peter & Paul Church, 1140 Johnston Drive, Bethlehem until further notice. (Saturday 4:00PM or Sunday 10:00AM) Your donations will be redirected to St. Michael Church. Bishop Kurt thanks everone for their cooperation and understanding.
---
Eastern Christian Formation Classes: For the 2019-2020 school year, please enroll your children in the ECF program at Bethlehem, at the church you are attending or contact Fr. Peter Hosak about the possibility of obtaining materials for homeschooling. Ss. Peter and Paul Church in Bethlehem offers classes for Grades 1-6.
---
Read the latest news from around the Eparchy of Passaic at Eastern Catholic Life
---
Parish Records: Please be sure to fill out the census form so we can update our membership records for every family and individual. Download these pages Parish Census p 1, Parish Census p 2 or see Fr. Peter Hosak if you need a copy.
---
Activities:
Volunteers and Parish Action Committees:
Parish Advisory Council: A planning council to coordinate and implement activities, fundraising, finances, carrying out the mission statement of growth and community service.
---
Cleaners: We need volunteers to help clean the church, basement, steps and sidewalks, parking lot, center and classrooms each week. Please see Larry Trumbilla or Metro Ketz to sign up to help maintain our parish!
---
Groundskeeper – Volunteer(s) need for general cleanup of trash and debris, grass cutting, trimming.
---
Facility Services Committee – General upkeep, basic painting, maintenance. Please see Bill Komnath if you are interested.
---
"Shout joyfully to the Lord, all the Earth."
Singers: Add your voice in melody or harmony with the cantor. Not a formal choir and reading music is not a necessity.
Let the word of Christ dwell in you richly, as you teach and admonish one another in all wisdom, and as you sing psalms and hymns and spiritual songs with thankfulness in your hearts to God.Colossians 3:16(RSVCE)
---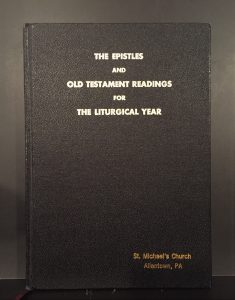 Readers: Men, women or children of any age with good reading skills and strong voices and are invited to take turns reading the Epistle; no experience needed. Individual instruction or online lessons available. A copy of the reading can be provided in advance. Please see our Cantor. Readers Course Video 1, Readers Course Video 2
Pope Francis has asked the entire Catholic Church to pray at the end of each Divine Liturgy or Mass
for protection during this time of danger. He asked that we pray to St. Michael or that we say an ancient prayer to the Mother of God, found in our own pew book on page 454.
May God bless the work of your hands,
+ Bishop Kurt
---
The first Metropolitan Cantor Institute online class can be taken for free by cantors, clergy, and parishioners of Byzantine Catholic parishes in the United States. (Non-members can take the class for $75.) This class teaches the basics for singing in church – musical sound, fundamentals of singing and reading music, and how to lead basic responses used in all services. Recommended for anyone who wants to learn our plain chant!
For more information, click on this link Classes.
---
Rosary Society – Volunteers needed to lead the praying the Rosary before the Liturgy on Sundays. Just come to church 30 minutes before the Liturgy to pray the Rosary out loud for the intention that God would bless our parish, bring about a renewal at Saint Michael's, and help us meet the challenges ahead according to His will. Rosary booklets are available for everyone.
The foundation of every good work is prayer. Jesus said, "Without me you can do nothing." Jesus acts in our lives and inspires us to do good largely through an active life of prayer.
---
Altar Servers – We are looking for any male who would be willing to help as an altar server with preparing the censor and opening and closing the side doors of the icon screen during the Liturgy.
---
Church Renovation Fund:
Please see Janice Kavounas to join the fundraising group as we work on fundraising projects including the Applebee's Flapjack Breakfast..
Saint Michael Parish Meeting concerning Construction
Church Repair Proposal
Parishioner Poll Results:
Option A – Basic repair (drainage, tower) 20
Option B – Full repair (all A plus full excavation,reconstructing walls, sidewalks) 5
Option C – Unable to support either 7
​Two votes for option A but suggest we also fix the cross and dome.​
Note: The refinishing of the rectory basement has been cancelled, reducing the project cost by $30.000.
A donor who wishes to remain anonymous contributed $10,000 to the construction needed on the church.
Gift Cards Fundraiser – Retailers where you shop donate money to our church!We have begun a new program with a great opportunity to help our parish simply by shopping with Gift Cards purchased through our church. ANYBODY can join our scrip program simply by going to the website www.shopwithscrip.com, click enroll, and entering our enrollment code 4E85BLFF48759. If you link up to prestopay, the money will come directly out of your bank account instead of having to bring a check or cash to church. See Janice Kavounas, Sandra Brink, or Bill Komnath for details.
---
We want to hear from you!
Parish Records: Please be sure to fill out the census form so we can update our membership records for every family and individual. Download these pages Parish Census p 1, Parish Census p 2 or see Fr. Stepan if you need a copy.
---
Parish Survey –
There's still time to fill out this short survey and email it back, or print out a copy and give it to the one of the ushers, the cantor, or Father. Please return it as soon as you can so results can be compiled and we can better serve our parish and parishioners.
Please take time to fill out this survey for Metropolitan William in preparation of the 2018 Synod.
---
Thanks to the Kushner and Hoffman families for their donation of a new Altar Gospel Book for use during the Divine Liturgy and other services. It is donated in memory of Rose Hoffman.
We also have a new cadillo (censer) for use in the Divine Liturgy for burning incense. It was purchased by an offering from Lois Brink and family. They offer it in memory of Lois's husband Harold R. Brink Jr. We thank them for their generosity in memorializing this liturgical item. May the memory of the servants of God, Rose and Harold, be eternal.
---