Activities:
Family or Individual Portraits A photo backdrop has been set up in the Parish Center for anyone wishing to have complimentary family, group or individual pictures taken on Sundays before or after the Liturgy, on weekends or evenings by appointment. Pictures can be added to a private section of the website for an online Parish Directory. Files will be available free to have prints made. Please see our Cantor Will Komnath for more information.
---
Cake and Coffee Fellowship will be held following the Liturgy on Sunday October 22nd. Everyone is invited and a sign up sheet is in the vestibule if you wish to bring anything.
---
Palm and pussywillow preparation Thanks to everyone who helped out.
---
Easter Egg Hunt was enjoyed by the children on Palm Sunday.
---
Food Drive Will begin again in October for donated items for the local food bank.
---
Charity Fund – We are going to be setting up a fund to help those in need.
For I was hungry and you gave Me food; I was thirsty and you gave Me drink; I was a stranger and you took Me in; I was naked and you clothed Me; I was sick and you visited Me; I was in prison and you came to Me. (Matthew 25: 36-37)
---
Gift Cards Fundraiser – Retailers where you shop donate money to our church! We have begun a new program with a great opportunity to help our parish simply by shopping with Gift Cards purchased through our church. ANYBODY can join our scrip program simply by going to the website www.shopwithscrip.com, click enroll, and entering our enrollment code 4E85BLFF48759. If you link up to prestopay, the money will come directly out of your bank account instead of having to bring a check or cash to church. See Janice Kavounas, Sandra Brink or Jennie Komnath for details.
---
Parish and Eparchy News:
+ Nicholas Yackanicz, cantor emeritus Our parish offers condolences to Gabriella Yackanicz and family upon the falling asleep of Gabriella's husband, Nicholas. Nicholas fell asleep in the Lord on Tuesday and was buried from our church on Saturday. May his memory be eternal!
Recent Baptisms (Mysteries of Initiation) We welcome Charles Michael Roth and Emelia Rose Socrates into our parish family and congratulate their parents and families. May God grant them many years!
---
Volunteers and Parish Action Committees:
Singers: Add your voice in melody or harmony with the cantor. Not a formal choir and reading music is not a necessity.
Let the word of Christ dwell in you richly in all wisdom, teaching and admonishing one another in psalms and hymns and spiritual songs, singing with grace in your hearts to the Lord. (Colossians 3:16)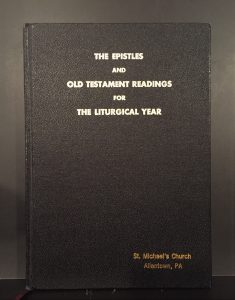 Readers: Anyone interested in reading or learning to chant the Epistle. Men, women or children of any age; no experience needed. Readers Course Video 1, Readers Course Video 2
Facility Services Comittee – General upkeep, basic painting, maintenance. Please see Bill Komnath if you are interested. We will begin to develop a maintenance plan for the church buildings.
Rosary Society – Volunteers needed to lead the praying the Rosary before the Liturgy on Sundays. Just come to church 20-30 minutes before the Liturgy to pray the Rosary out loud for the intention that God would bless our parish, bring about a renewal at Saint Michael's, and help us meet the challenges ahead according to His will. Rosary booklets are available for everyone.
The foundation of every good work is prayer. Jesus said, "Without me you can do nothing." Jesus acts in our lives and inspires us to do good largely through an active life of prayer.
---
Thanks to the Kushner and Hoffman families for their donation of a new Altar Gospel Book for use during the Divine Liturgy and other services. It is donated in memory of Rose Hoffman.
We also have a new cadillo (censer) for use in the Divine Liturgy for burning incense. It was purchased by an offering from Lois Brink and family. They offer it in memory of Lois's husband Harold R. Brink Jr. We thank them for their generosity in memorializing this liturgical item. May the memory of the servants of God, Rose and Harold, be eternal
---