PA: Aliquippa - 2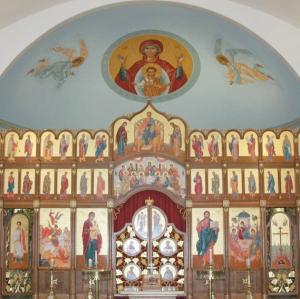 Metro Area:
Pittsburgh (PA)
St George the Great-Martyr Byzantine (Ruthenian) Church
Other:
412-916-3792 (Cell) 724-375-6652 (Hall)
---
Church sui iuris:
Byzantine Ruthenian Catholic
Canonical Jurisdiction(s):
Metropolitan Archeparchy:
Pittsburgh of the Ruthenians
Archeparchy:
Pittsburgh of the Ruthenians
---
---
Schedule of Divine Services
Always call ahead to verify times

Day

Service

Time

Sunday
Divine Liturgy
8:30am
Monday - Wednesday - Friday
Divine Liturgy
9:00am (except Feast Days)

Feast Days
Divine Liturgy
Consult the Bulletin

Mystery of Reconciliation

Days on which Divine Liturgy is served
Half-hour prior to Divine Liturgy
---
Mailing Address: As Above
Served By: Resident Clergy
Sacramental Records: In custody of the parish
---
The interior photograph is by Valentin Streltsov, the iconographer who designed and painted the icons at St George's, including those of the iconostasis. The photograph appears on Valentin's website, Valentino's Byzantine Icon Studio, and is used here with his kind permission.
---
The exterior photo appears on the Facebook page of St George's Parish.

---
Semi-official Website links to a page maintained by the Archeparchy
---
Status & Location Changes:
Formed in:
1915, as First Greek Catholic Church of Aliquippa, meeting in a private home in Aliquippa PA
Relocated in:
1917, to a site in West Aliquippa PA
Parish erected in:
1917, under the patronage of St George the Great-Martyr
Relocated in:
1967, from West Aliquippa to its present site
For this church, this is entry 3
This Entry Last Updated:
01/15/2017
---