News
Byzcath.org News provides news focusing on the Christian East from varous sources and offers links to other sites dedicated to providing the news about the Church.
Churches and organizations that provide news about the Eastern Churches are invited to submit their news stories to us for publication here (use the contact page for submission)..
Materials from the Vatican Information Service, Zenit, CWNews.com and other sources are published here with permission of their owners but may not be republished further without the permission of their original publishers. Please visit these sites to obtain additional general news about the Church. In addition to these sources EWTN News also provides a good general news summary.
Photo: Pope Francis and Ecumenical Patriarch Bartholomew I embrace.

Details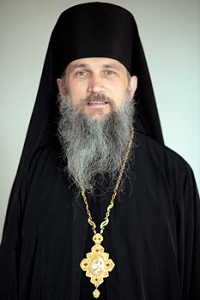 vatican.va - The Holy Father has appointed as bishop of the eparchy of Saint Nicholas of Chicago of the Ukrainians (United States of America) His Excellency Msgr. Venedykt (Valery) Aleksiychuk, M.S.U., transferring him from the titular see of Germaniciana and the office of auxiliary of the archieparchy of Lviv of the Ukrainians.
Msgr. Venedykt (Valery) Aleksiychuk, M.S.U. was born on 1 January 1968 in the village of Borshchivka, in the region of Rivne, Ukraine. He attended the major seminary of Drohobych and on 29 March 1992 he was ordained a priest.
In 1993 he was received in the Univ Holy Dormition Lavra of the Studite Rite and on 21 December 1995 he gave his first vows. He obtained a doctorate in spiritual theology from the Catholic University of Lublin, Poland.
He exercised his ministry in the parish of Bystrytsia (deaconry of Drohobych); in Belarus in Polock, and in the in parish of Vitebsk (1994-1996); and in Canada (1996-1999). He has served as Igumeno of the Lavra of Univ (2000 and re-elected in 2005); member of the commission of the Major Archbishop for Monasticism (2004); and administrator of the parish of St. Nicola Peremyshlany (2004). Since 2007 he was head of the secretariat of the Council of Monks of the Ukrainian Greek Catholic Church; president of the liturgical council and president of the major superiors of male religious institutes of the Ukrainian Greek Catholic Church.
He was elected as auxiliary bishop of Lviv of the Ukrainians on 3 August 2010, and was consecrated on the following 5 September.